Generation X (1991)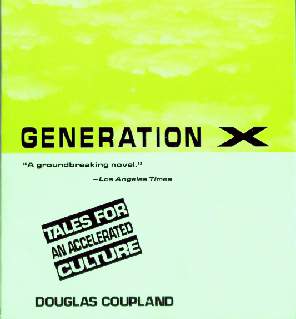 Coupland's works focus on the experiences of young people in contemporary North American society. The novel Generation X is the story of Andy, Clair, and Dag, three "twenty-somethings" who live Palm Springs. Overeducated for their current jobs, the three are disillusioned by the greediness, exploitation, and frenzied pace they experience in the corporate worlds. In an attempt to keep themselves entertained, Andy, Clair and Dag tell each other stories ranging from fantastic to the tragic. In addition to describing his characters' lives, Coupland also incorporates into Generation X numerous sayings and definitions which are printed along the margin of each page. For example, he coins such phrases as "Eroticize Intelligence" and "Re-Invent the Middle Class," and defines "Lessness as "philosophy whereby one reconciles oneself to diminishing expectations."
Shampoo Planet (1992)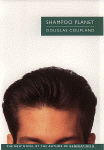 While Generation X centers on "twenty-somethings," Shampoo Planet focuses on the teenagers of the 1990s, or, according to Coupland, "The Global Teens." The protangonist of the story, Tyler Johnson, is torn between his desire to become part of affluent, corporate life and what he sees as his personal responsibility to save the environment and make the world a better place in which to live.
Life After God (1994)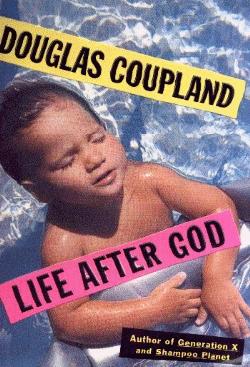 In his short story collection, Life after God, Coupland shifts his attention back to the "twenty-somethings" to address religious and spiritual concerns. In the epigraph to this work, Coupland writes, "You are the first generation to be raised without religion," and the stories in the collection often portray characters filled with hopelessness, despair, and lack of faith. The story "1,000 Years (Life after God)," for example, centers on a man who decides to stop taking the medication prescribed for his depression. While not necessarily religious, the man ultimately realizes: "I need God to help me give, because I no longer seem capable of giving ... to help me to love, as I seem beyond being able to love." Coupland also addresses such issues as divorce, nuclear annhilation, and the pain of romantic love in this volume.
Microserfs (1995)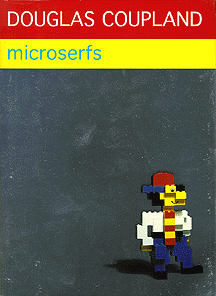 Microserfs: a hilarious, fanatically detailed, and oddly moving book about a handful of misfit Microsoft employees who realized they don't have lives and subsequently become determined to get lives inside the lightning-paced world of high-tech 1990s American geek culture. Coupland gives readers an intimate, deadly accurate, and very funny view of a way of life that is quickly becoming the dominant way of life: friends, families, and lovers falling through the trapdoors of the new electronic order and becoming involved in an engaging, awkward scarmble toward love and success in a brave new world.
Polaroids from the Dead (1996)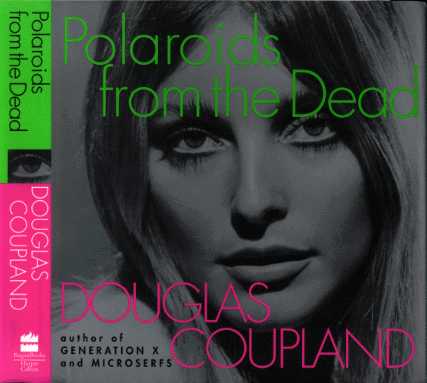 Douglas Coupland takes his sparkling literary talent in a new direction with this crackling collection of takes on life and death in North America - from his sweeping portrait of Grateful Dead culture to the deaths of Marilyn Monroe, Kurt Cobain and the middle class. For years, Coupland's razor-sharp insights into what it means to be human in an age of technology have garnered the highest praise from fans and critics alike. At last, Coupland has assembled a wide variety of stories and personal "postcards" about the pivotal people and places that have defined our modern lives. Polaroids from the Dead is a skillful combination of stories, fact and fiction - keen outtakes on life in the late twentieth century, exploring the recent past and a society obsessed with celebrity, crime and death. Princess Diana, Nicole Brown Simpson and Madonna are but some of the people scrutinized herein. By turns hugely funny, savagely ironic and poignantly searching, this collection has appeal for everyone cognizant of the first half of this decade and looking for navigation in the second.
Girlfriend in a Coma (1998)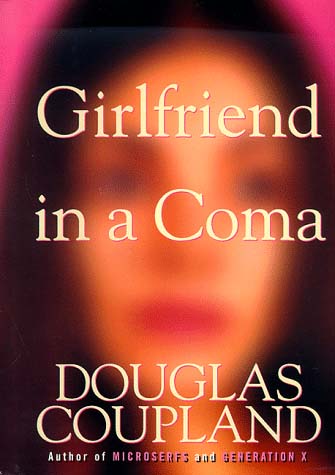 After making love for the first time, high school senior Karen Ann McNeil confides to her boyfriend, Richard, of the dark visions she's been suffering recently. It's only a few hours later on that snowy Saturday night in 1979 that she descends into a coma. Nine months after that, she gives birth to a daughter, Megan, her child by Richard. Karen remains comatose for the next 18 years. Richard and her circle of friends reside in an emotional purgatory throughout the next two decades, passing through careers as models, film special-effects technicians, doctors and demolition experts before finally being reunited while working on a conspiracy-driven supernatural series. Upon Karen's reawakening, life grows as surreal as the television show. Strange, apocalyptic events begin to occur. Later, amid the world's rubble, Karen, Richard and their friends attempt to restore their own humanity.
Lara's Book: Lara Croft and the Tomb Raider Phenomenon (1998)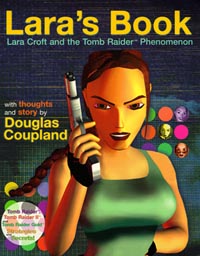 Lara's Book chronicles the amazing popularity of Lara Croft (the lovely leading lady of the Tomb Raider series). Douglas Coupland gves his thoughts on the phenomenon and an original story about Lara. The book also includes thousands of pictures of Lara from around the world, some never before seen in print. Plus, strategy guide author Kip Ward has created new gameplay strategies Tomb Raider, Tomb Raider II, and Tomb Raider Gold for exclusive release in Lara's Book.
Miss Wyoming (1999)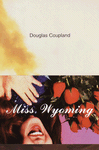 Susan is a former child-beauty-pageant contender. John is a hard-living movie producer. She walks away from a plane crash without so much as a scratch. He comes away from a near-death experience with a unique, vivid plan. Susan refuses to spend one more day peddling herself for cheesy TV sitcom parts and takes advantage of a very weird situation to disappear. John turns his back on a hedonistic life making blockbuster action flicks. Shedding their self-made identities, each sets out on an uncharted course across the Gap-clogged, strip-mall landscape of California, searching for the thing--Love--that neither has ever really known, but that they now think they just might, actually, desperately want. Assisting Susan and John are a blackmailing pageant mom, a pair of suburban eggheads, a rust-belt refugee, and a salad bar of other twentieth-century Americans who all share the dream of one day taking center stage.
City of Glass (2000)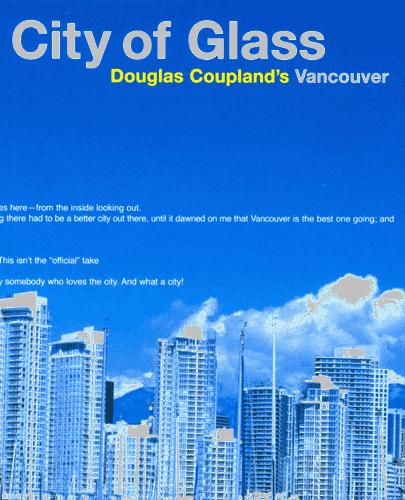 A stylish little book of text and image in which Douglas Coupland captures the essence of his home town, Vancouver. The world sees Vancouver as a beautiful city harbouring a special secret -- a snowboarding Pacific sphinx, brash and free of historical luggage. The city is also the birthplace of cultural phenomena such as Greenpeace, cyberpunk, the schism of Generation X, The X Files and now, Culture Jamming. So -- what is Vancouver really like? What does Vancouver feel like from the inside? Electric, provocative, witty and, above all, eerily perceptive, here is Vancouver inside out, from the Grouse Grind to glass towers, First Nations to feng-shui, Kitsilano to Cantonese. Here's life in the social laboratory of extreme politics and extreme sports, where Europe meets Asia meets indigenous, and where the notion of Paradise at the end of a Canadian rainbow is rewritten every day. Coupland's 25,000-word text, broken up into 49 personal categories, is matched with a like number of images reflecting the unexpected city: archival photographs, "beauty" shots, images from internationally known photo-artists, and ephemera such as Campbell's soup cans with Cantonese/English/French labels ( ... the only such cans in the world). Full of inimitable insights, this unique little book is designed by Coupland and Vancouver's Judith Steedman in the manner of underground Japanese magazines. Unlike any take on Vancouver that anyone has seen before, Coupland's exploration of his home city will intrigue his broad and growing international audience.
All Families are Psychotic (2001)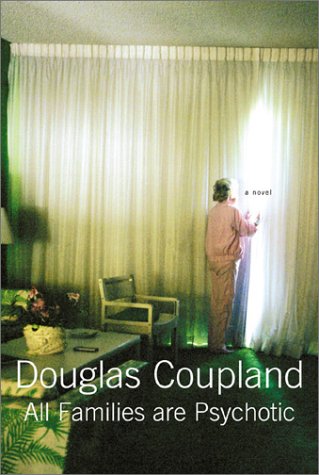 The most disastrous family reunion in the history of fiction. The last time the wildly dysfunctional Dummond family of Vancouver got together, gunplay was on the menu. Only the fact that their one shining star, Sarah the astronaut, is about to be launched into space at Cape Canaveral tempts them to try togetherness again. The state of Florida may never recover from the Drummonds' version of fun in the sun. Everyone tries really hard to get along. But when the reformed wastrel and oldest brother Wade sets out to help his estranged dad out of a financial jam, he sets in motion a hilarious series of mishaps and coincidences that spins quickly out of control. The story unfolds at lightning speed, hurling the Drummonds apart with the energy of a rocket blast. Adultery, hostage-taking, a purloined letter, heart attacks at Disney World, bankruptcy, addiction, blackmarket negotiations-Coupland piles on one deft and comic plot twist after another, leaving you reaching for your seat-belt and waiting for the crash. When the crash comes, it is surprisingly sweet.
Note: Major Works is partly reprinted from Contemporary Literary Criticism. I claim no copyright over it.
Works of Coupland by others
Masayo Ogura (Japanese)
Generation X
Translated by Hisashi Kuroma (One of the most popular translators in Japan. Now deceased.). Published by Kadokawa-Shoten in 1992.
Shampoo Planet
Translated by Yoshinobu Morita. Published by Kadokawa-Shoten in 1995.
Life after God (In the Desert)
Translated by Ken-ichi Eguchi. (Literary Magazine SUBARU May, 1994) Published by Shueisha.